Product Description
216D features:
Very simple to use.
Can be used for up to 3 dogs.(Extra collar needed 3 dogs system).this
listing just for 2 dog.
1 warning sound, 1 vibration and 7 levels of progressive shock.
Can be used as pulse correction or continuous correction. Continuous correction means the correction will be issued as long as you press and hold the button.
Solid remote range of up to 600 yards(550 meter) and signal can pass through walls and fences.
Suitable for dogs from 15 to 150 pounds.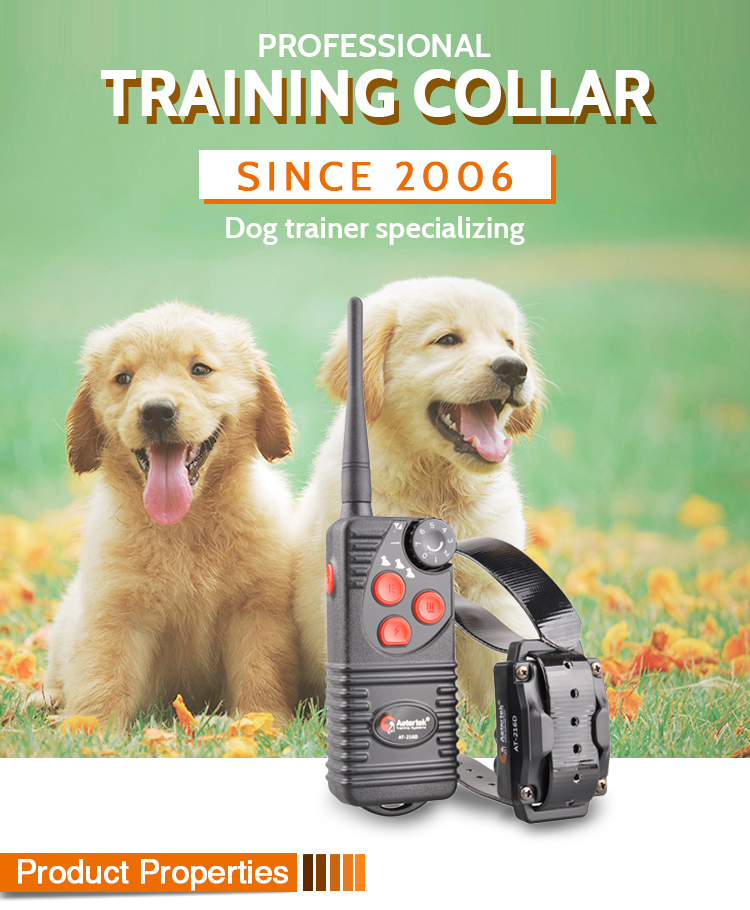 About the Transmitter
1.Remote dog training shock collar remote with friendly design with easy-to-push buttons.
2.Gold-plated antenna pedestal.
3.Purpose-designed big and glove-friendly rubber buttons to withstand repeated usage.
4.Moisture proof, weather proof and water resistant.
5.The transmitter's lanyard adopt heat transfer printing process, the logo letter is unfading. Comfortable to wear.
6.Size: LxWxH: approx 105mmx47mmx27.8mm;
7.Battery: 9V
About the Receiver
Aetertek collar with 3 types correctional methods: beep, vibrate and shock.
Respond quickly, and can be working continually unless you don't press the function button. It also achieves the strict enforcement of orders and prohibitions effect.
1.100% waterproof;(your dog can swim with it).
2.receivers'DC base adopt embedded injection molding process, and equipped with high-precision waterproof ring structure of built-in card slot type, ensured 50CM underwater for 3 hours waterproof effect.No leaking issues when pet in the shower, swimming, diving and other under water condition;
3.Rechargeable dog trainer receiver with a built-in long lasting battery for consistent power supply.
4.Gold-plated charging head, with super communication characteristic, color will not fade, never oxidized.
5. charging port:Aetertek receivers using 5.0MM pore size on charging port which can be charged repeatedly and never deformation and worn, 100% Safety and reliability.
6.TPU collar:All of Aetertek products use the TPU collar with high strength, high toughness, easy to clean, can be cut to any size according to your dogs' neck.
7.Size of Collar Unit: LxWxH: approx 65.7mmx38.4mmx30.3mm