Product Description
Description
AT919A series trainers are designed for easy, effective operation and are the most compact and efficient dog training systems on the market today. Among the many powerful features that set these systems apart from any other is the advanced anti bark intelligent technology.
The AT919A has a unique dog bark idenfication technology which identifies pattern barking, then triggers the proper correction. For example, the first bark will trigger an ultrasonic beep, if the barking continues or gets louder, a vibration correction will be issued. If the barks get even louder and more frequent, a shock correction will be administered. Continued barking will cause the intensity of shocks to increase. If the barks decrease or stop, the corrections decrease or stop automatically.
Unlike most anti bark trainers on the market, the AT919A series intelligently distinguishes excessive barking from normal behaviors such as scratching or running, thereby preventing false corrections.
The 919A is stylish, lightweight, and completely waterproof.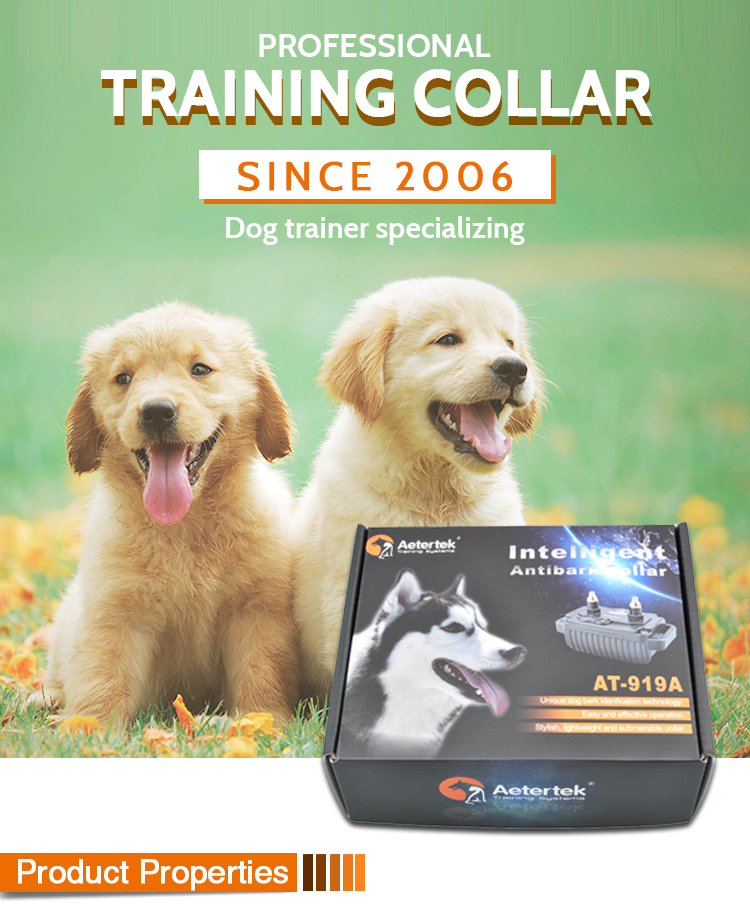 Set up:
1.Lift the small rubber tab on the receiver to access the charging port.
2.Plug the wall charger into the wall socket and into the charging port of the receiver.
3.A red led light will be visible on the receiver during the charging process. For the first 3 times, please charge the receiver for up to 8 hours. The subsequent charge will only take 2-3 hours.
4.Once the receiver is fully charged, unplug the receiver from the power cord, and secure the rubber charging port tab. To activate the anti bark feature, hold the on/off button on the receiver down until a solid red light comes on. When you release the button, the solid red light should stay on and a blue light will flash once every then seconds to indicate the battery is fully charged. The receiver is now activated and programmed for the intelligent anti bark correction. Thread the collar through the retaining bars on the receiver and put the collar on your dog. When the blue light does not flash, recharge the battery.
To turn off the receiver, press and hold the on/off button on the receiver for up to 6 seconds. The red and blue lights will flash once and the receiver will beep.
Put the receiver around your dog`s neck, tight enough that only one finger will fit between the collar and the dog`s neck. Make sure that the electrodes are in direct contact with your dog`s skin. Hair between the electrodes and skin will severely diminish the shock effect. If necessary, it is advisable to clip or shave your dog`s fur under the neck to ensure direct contact.