Product Description
AT-919C is an innovative dog trainer specially designed for big-sized dogs above 30kg (66pounds) weight or 60cm height (2feet). It offers the compacted transmitter and exquisitive receiver, the receiver weighs at 2.8 ounces.
AT-919C uses clear LCD screen transmitter to learn signal information better
AT-919C characters with 600-yard (or 550M) range, 0-9 stimulation correction levels, constant vibration, warning Beep sound and intelligent anti bark function (auto back stop without the operation of transmitter.)
AT-919C system is well fabricated with expensive materials, For example, key connection parts are plated with gold which guaranteed long-term super connection effect; the whole system is well packing with a fabric portable bag which guaranteed user carry it anywhere without missing any small accessories; the transmitter have a strong buckle clip which facilitates carrying.
AT-919C adopts an innovative technology called Magnetic Non-touch Match technology (MNT) which allows user to match the system together quickly.
AT-919C`s transmitter and receiver are both rechargeable via the 2 5.1pin ports supplied, and its receiver is absolutely waterproof.
AT-919C offers 1-1 and 1-2 options which makes one transmitter to control 2 receivers separately or simultaneously.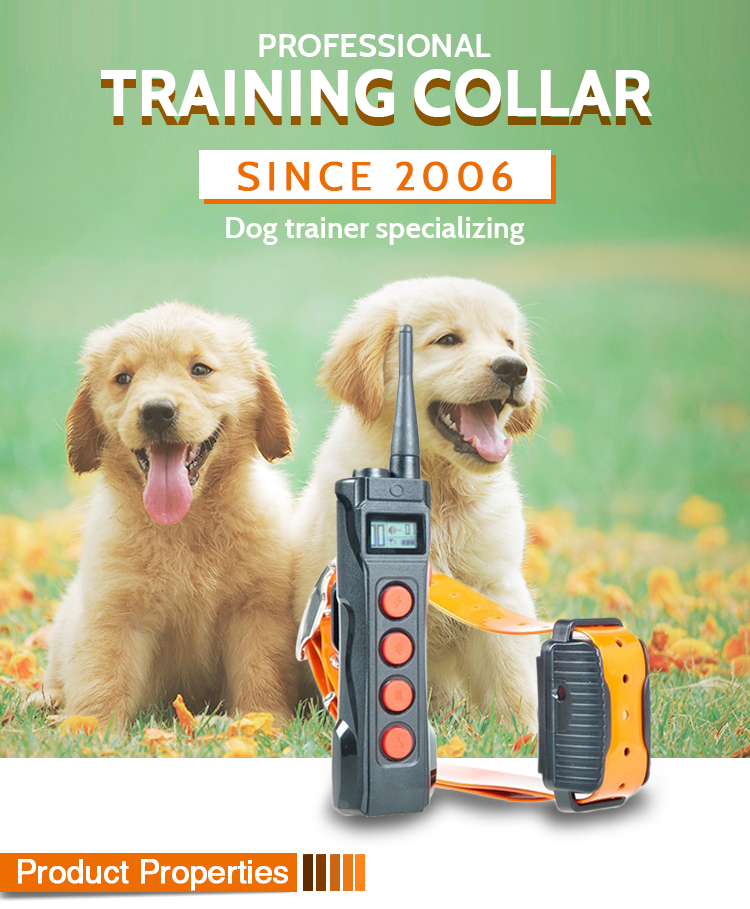 Features
1.Easy to turn/on or sync the collars,Just put the remote and receiver closely(NEW).
2.100% waterproof and rechargeable receivers(NEW).
3.Can be used as 2 dogs remote dog training collar system.
4.LCD display to show the correction levels and dog mode/channel.
5.Range of up to 1000 M (approx. 1093 yards)
6.Suitable for healthy dogs of over 6 months old which weighting from 15lbs to 150lbs.
7.Features multi-functional modes(Shock, Vibration, Warning Beep Tone and Auto anti-bark).
8.Red Rubber button,your finger will feel more friendly and comfortable(NEW).
9.The remote comes with a flashlight .
10.Dual chaging port is thick and strong,can be recharged more than 1000 times (NEW)
11.For 919C, auto Anti Bark function is available. Press Dog Switch button for 3 seconds , then the signal light will be solid blue. Do it again, the Auto Anti Bark function will be turned off.
12. To do a self-test, place the remote circle near receiver ON/OFF area(the circle part) 3 times, it should beep, vibrate and shock with blue light up, indicating a functional unit.