Product Description
The 919C system is an upgraded version of 919 system.This system main improved the waterproof level and the method of synchronization,so you can easy to sync ,turn on/off the receivers .As aetertek's high end product,this remote training made for professional dog training personnel. It features multifunctional modes(Shock, Vibration, Warning Beep Tone and Auto anti-bark). You can use this product to deter your dog from such behaviors as digging, getting into the trash, chasing cars, stealing food from the counter, running away from you, etc. .
Note:
1)The valid distance of remote control means the straight-line distance between the Transmitter and the Collar Receiver without obstacles in between. If there are interference source around, the actual remote control distance may vary.
2)This product is for pet training only by training, the pet can understand the intention of its owner. Desirable results can only be achieved after a period of training.
3)The life span of the batteries vary to how often you use the product. Therefore you should often check the batteries by hearing the beep from the Collar or the Transmitter.
4)The transmitter will go into STANDBY mode if there is no operation after 3 minutes.
5)One dog training system comes with a remote and one collar,two dog training system comes with a remote and two collars,receiver only comes with a receiver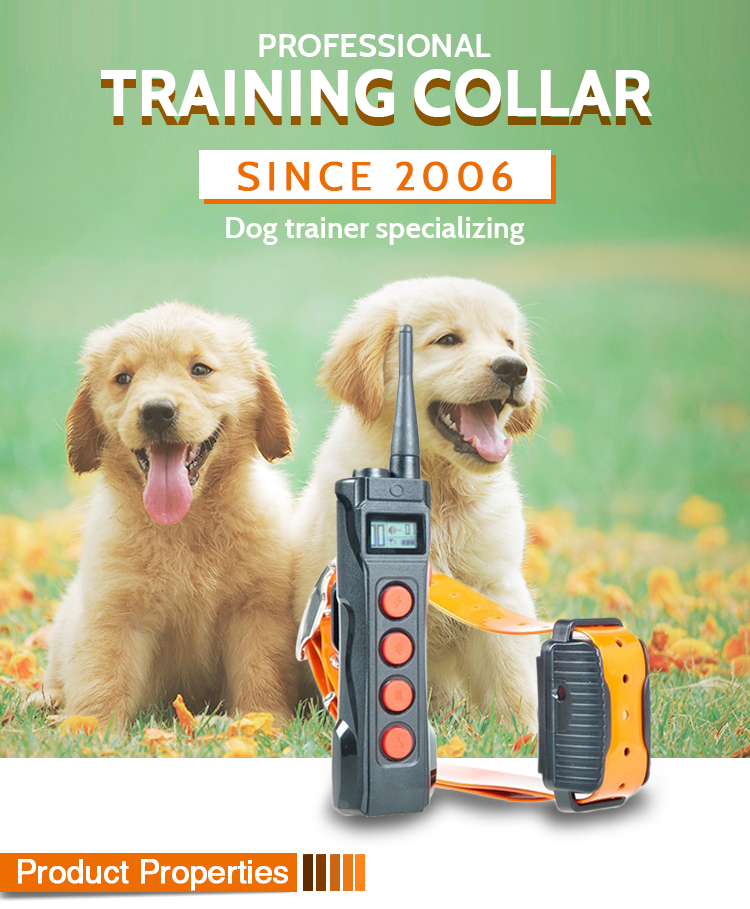 Features
1.Easy to turn/on or sync the collars,Just put the remote and receiver closely(NEW).
2.100% waterproof and rechargeable receivers(NEW).
3.Can be used as 2 dogs remote dog training collar system.
4.LCD display to show the correction levels and dog mode/channel.
5.Range of up to 1000 M (approx. 1093 yards)
6.Suitable for healthy dogs of over 6 months old which weighting from 15lbs to 150lbs.
7.Features multi-functional modes(Shock, Vibration, Warning Beep Tone and Auto anti-bark).
8.Red Rubber button,your finger will feel more friendly and comfortable(NEW).
9.The remote comes with a flashlight .
10.Dual chaging port is thick and strong,can be recharged more than 1000 times (NEW)
11.For 919C, auto Anti Bark function is available. Press Dog Switch button for 3 seconds , then the signal light will be solid blue. Do it again, the Auto Anti Bark function will be turned off.
12. To do a self-test, place the remote circle near receiver ON/OFF area(the circle part) 3 times, it should beep, vibrate and shock with blue light up, indicating a functional unit.